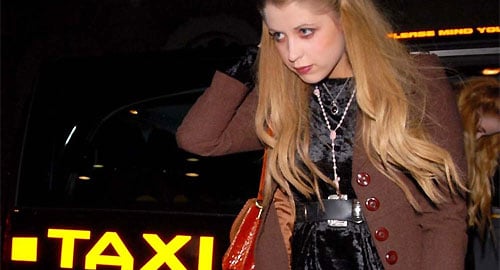 ---
Yes, this is exactly what it sounds like. Socialite Peaches Geldof nodded off while being interviewed by some English TV host named Fearne Cotton for an upcoming celebrity TV show.
Just in case you don't know who this Peaches chick is, I'll make myself useful and tell you. Officially, she's a British socialite, model, and reality TV host. Unofficially, she's pretty much the UK's version of Paris Hilton with more drugs, unnecessary tattoos, and Scientology: a waste of space, white trash with money, all that good stuff.
Oh but don't worry, you guys. Peaches must have just gotten confused. The interview took place in the back of a taxi so Peaches' drug-addled brain probably just assumed it was time to close her eyes and spread those legs.
Apparently, being a drugged up fame whore can get tiring sometimes. Mischa Barton will attest to that. But seriously, how much can you really expect from someone conceived by two hippies who decided it was okay to give her the obnoxiously long full name of Peaches Honeyblossom Michelle Charlotte Angel Vanessa Geldof?