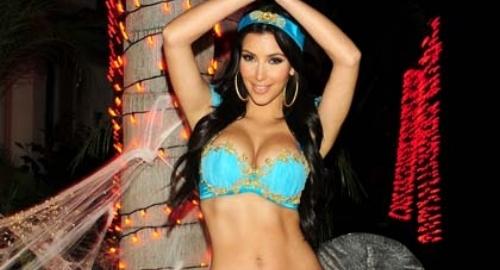 ---
Kim Kardashian continued her quest to mock and degrade Muslim women on Saturday by dressing up as a Middle Eastern whore.
Kardashian apologists have claimed that Kim was just dressing up as Jasmine from Disney's unholy affront to Arab culture "Aladdin". But our sources close to Kim tell us another story. When Kim was asked who she was dressed as for Halloween she replied, "What the hell is Halloween? I'm just trying to make Arab women look like whores… and pick up black guys."
You can judge for yourself. Just looks at these pictures of Kim Kardashian supposedly dressed as "Jasmine". Oh how she mocks us!