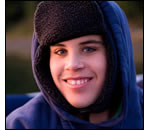 Israel and Hamas have agreed to a one-day ceasefire in order to mourn the tragic loss of Jett Travolta, the late son of actor John Travolta.
Jett's sudden death last week triggered a wave of condolences from both sides of the conflict.
"We've had 769 deaths, including more than 200 children. But when we heard about Jett Travolta, it really made us stop and think," said Abu El-Sarraj, a now limbless widower speaking near the charred remnants of what was once a school packed with terrified civilians.
Added El-Sarraj, "I mean, what kind of god could allow such a tragedy?"
Meanwhile, Isreali Prime Minister Ehud Olmert's security cabinet convened on Friday to finalize the ceasefire.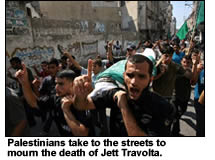 "At a time like this it's hard to worry about something as trivial as a Hamas rocket attack, or a nuclear Iran wiping us off the map," said one Israeli official, who declined to be named.
Added the official, "Plus, Travolta's made a lot of money for the Tribe over the years, which makes it extra sad."
Fighting is set to resume on Sunday.